THE WISDOM OF SARAH CAWOOD*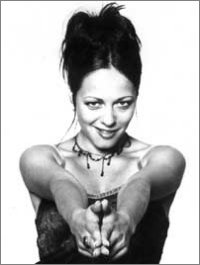 There are a great many people in this world who find Sarah Cawood intensely irritating, but we've always tried to give her the benefit of the doubt. She was always well-meaning, we thought. Sadly, we're beginning to lose our patience. La Cawood was on This Morning, erm, this morning, doing a sort of showbiz-news feature. There was a piece about Britney Spears and the general brilliance of 'Toxic', which is all fair enough. This segued into a discussion on the godlikeness of Cathy Dennis (again, I like where this is going). Sadly, it all came rather unstuck when Ms Cawood opined the following: "If you want a number one hit, you go to Cathy Dennis. She wrote 'Can't Get You Out Of My Head' for Kylie, she wrote 'Come Into My World' for Kylie, she wrote 'Sweet Dreams My LA-Ex', which is incredibly catchy..."

Spot the deliberate mistake? Only one of those songs actually made it to number one. Not really the best way to reinforce your argument, is it?

*An offshoot from "The Wisdom of Tim Kash"