With a surprisingly low debut at number four, it's...

...mum's favourite Irish boyband, Westlife!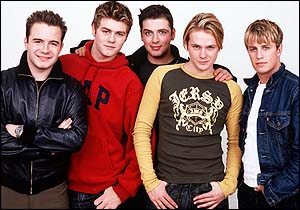 Like OTV yesterday, Westlife aren't hugely ugly, they're just disturbingly bland for a boyband. And anyone who saw the comedy golfing attire they wore on Nicky's stag weekend will agree that they're all getting a bit chubby and past their best, and are therefore deeply deserving of their place in this list. Special mention must go to Mark "Fish Lips" Feehily, clearly the ugliest of them all. In fact, if it wasn't for him, I might have left Westlife out of the list altogether...